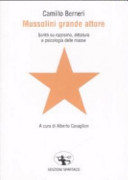 Mussolini grande attore
Saved in:
Bibliographic Details
Main Author:
Other Authors:
Format:

Book

Published:

Pistoia Pistoia

Edizioni dell'Archivio famiglia Berneri Comune-Assessorato agli istituti culturali

1983



Edition:

Rist. dell'ed.: Mussolini psicologia di un dittatore (Milano: Azione comune) 1966 riv. e accresciuta

Subjects:
Tags:
Add Tag

No Tags, Be the first to tag this record!
Biblioteca:
Archivio Biblioteca Enrico Travaglini - Fano